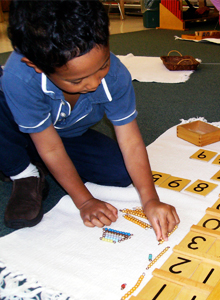 Like the movements of a symphony, our curriculum is a composition of interrelated themes, wide ranging, moving from concrete to abstract, from overview to detail, and returning again and again to be reconsidered in greater depth.
The hand that learns to grasp the blocks in the Infant Center is prepared to grasp the sorting shapes as a Toddler. In turn, the Primary child learns to work with number rods, leading to the addition beads in Junior I and the multiplication board in Junior II. By Middle School, that initial training of an infant's hand to grasp has led to mastery of algebraic equations and square root.
If you were to walk back in time from our Middle School to our Infant Center, and all that's in between, you would be tracing the development of the most complex and abstract concepts and activities directly to their simple and concrete origins by examining the objects and activities in each room.
And, there is something else you would be examining in your time travel: the origin of a wonderful teenager's self-esteem. Our environment, our activities, our materials, our teaching methods, our developmental sensitivities, our use of self-motivation rather than peer competition, and our age-specialized and highly trained faculty are all devoted to providing the child with every opportunity to succeed. Success in tying shoes, putting on a coat, peeling carrots, grasping the decimal system, understanding a mutual fund or key points of American history—and in a thousand other endeavors—is the very basis of self-esteem. And we seek to ensure it.
This does not mean we avoid challenges to avoid failure. On the contrary, each child is intellectually, emotionally, physically, and spiritually stimulated. We approach each challenge carefully and intelligently, encouraging trial and error, and with full knowledge of differing learning paces and styles and developmental stages. And, we guide our students through the challenge successfully, without moving on until an activity or a concept is mastered.
For more detail, please see our  Program Schedule.