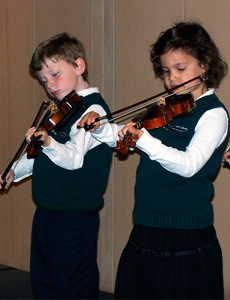 Weekly lessons in violin, piano, guitar and woodwinds (saxophone, clarinet, recorder, and flute) are offered to students throughout the year for 30, 45 or 60 minutes. Time and day of lessons are scheduled according to availability.
---
Suzuki Violin Lessons
Ages: Primary through Middle School Students (starting early in Primary is strongly encouraged)
Suzuki Violin lessons are offered for children age 3 and up using the popular and effective Suzuki method. Dr. Suzuki taught that every child has the innate capacity to become a talented musician, in a process analogous to language acquisition. Good training during the critical period of cognitive development is all that is required for any child to become an excellent musician.  Students are mentored through the Suzuki repertoire in a weekly individual lesson. Children also participate in weekly group lessons in which they practice starting and stopping together, playing in tempo, and performing solos for each other. Group games offer fun and creative ways to polish basic skills, and seeing other students playing more advanced pieces inspires children to practice more at home. Follow this link to learn more about the Suzuki Method and answers to frequently asked questions (FAQs).
Suzuki violin lessons at Princeton Montessori School are taught by Ms. Toyoko Kitade, biography below. 
Register for Suzuki Violin lessons for the Academic Year.
Register for Summer Music Lessons.
---
Piano
Ages: Primary through Middle School Students
Piano lessons at Princeton Montessori School are based on the idea that every child has musical potential and all children are able to learn and express themselves musically. Piano students begin by learning basic skills including proper sitting and hand positioning. They begin by practicing singing notes and doing rhythmical exercises to prepare them to read music. As the child progresses they work on learning scales, music theory, and performance skills. Lessons are designed around the individual child's readiness supplemented where it is necessary, providing a learning track of success for each student. Learning how to play and perform well  on the piano can open up a world of opportunity to anyone.  The confidence which is gained is priceless.
Piano lessons at Princeton Montessori School are taught by Ms. Rimma Skvortsova and Ms. Sue Miller, biographies below.
Register for Piano lessons for the Academic Year
Register for Summer Music Lessons
---
Woodwinds
Ages: Junior II through Middle School Students.
Instruction in woodwind instruments include clarinet, flute, recorder and saxophone. In addition to basic instruction on the instrument of choice, students will also learn to read music, scales and theory. As each student progresses, guitar or piano accompaniment will be provided.
Woodwind lessons at Princeton Montessori School are taught by Mr. Jon Thompson, biography below. 
Register for Woodwind lessons for the Academic Year
---
Guitars
Ages: Junior II through Middle School Students
Guitar lessons focus on the basic building blocks of guitar instruction including proper playing technique, basic chord progressions, familiar beginner melodies and reading music. As students begin to master the basics, there will be an increased emphasis on listening, keeping a steady rhythm, playing with others and learning how to make the guitar a practical instrument for everyday playing.
Guitar lessons at Princeton Montessori School are taught by Mr. Jon Thompson, biography below. 
Register for Guitar lessons for the Academic Year
---
Music Instructor Bios
Toyoko Kitade (2003) earned an MA from the New England Conservatory of Music, Boston and a BA from the Sakuyo College of Music, Japan. She has 30 years of international experience as a Suzuki violin instructor, and was the Assistant Director of the Suzuki Institute of Boston. She completed her Suzuki instructor training with Mieko Moriya, Japan, and Donald Becker, Boston. She is also trained in the Kodály method of music instruction. Her professional performance experience has included a position as Principal 2nd Violin for the Fukuoka City Philharmonic, Japan, as well as serving as a violinist for the New Symphony Orchestra, Tokyo, and the New Philharmonic Orchestra, Boston.
___
Alexander (Alex) Mitnick (2000) graduated with honors with a BA in Jazz Guitar from The University of the Arts in Philadelphia, PA. He has created numerous original school musicals with the Elementary and Middle School students. Each year Alex writes and composes a song in keeping with the School theme. His music focuses on self-awareness and an appreciation of the world around us. He has produced two CD's called Kaleidoscope Songs I and II. He belongs to a variety of musical groups that perform for audiences in NJ, NY, and PA. He presents to schools and teachers, and is an instructor for the Princeton Teacher Education (PCTE), NJ.
___
Rimma Skvortsova (1999) received an MA in Music Pedagogy from Moscow State University of Pedagogy and BA with Honors in Piano Pedagogy and Choir Conducting from the Glinka College of Music, Dnepropetrovsk, Ukraine. She has more than thirty years of experience teaching piano including classical, folk, and modern music in music schools in Russia and United States. Mrs. Skvortsova is skilled in preparing childrens' recitals and performances.
She has been the faculty of Westminster Choir College Faculty since 2000. Students participated and became winners in domestic and international competitions over the years taking First, Second, and Third places. Students became winners of Scholarship Competition of Westminster Conservatory and Golden Key International Music Festival. Winners include graduates of Princeton Montessori School who have performed in Carnegie Hall and Weill Recital Hall in New York City, NY.
Mrs. Skvortsova is using the traditional method of piano pedagogy world – recognized and used to train the world famous pianists over the centuries. The method will bring you music of Mozart and Beethoven to your home as well as modern popular music. The typical lesson gives the student abilities to sight read music, interpret it and perform before an audience. As well, the lesson includes elements of solfeggio and music theory. Students have an opportunity to become not only solo performers, but also play in duets and trios in numerous recitals and school concerts over the school year.
___
Sue Miller (2007) earned a BA in Music Education from Susquehanna University and has since taken Graduate Level (Continuing Education) courses from Westminster Choir College in Piano Pedagogy.  Most recently she studied advanced classical technique with Dr. Stanley Yerlow (www.yerlow.com) who teaches and performs in the NYC area and is a professor at Fordham University.  Her current studies Jazz piano improvisation and arranging with Vince Dimura at Princeton University. Previously, she studied under David Kenney with a focus to jazz improvisation, theory and arranging. Ms. Miller also performs regularly at many different venues, as a solo artist, accompanist and most currently as a band leader.
Jonathan Thompson (2007) is a singer-songwriter and multi-instrumentalist who talents as a saxophonist, guitarist, and vocalist have been a contribution to the Philadelphia music scene for over ten years. He currently collaborates through writing, performance and / or studio work with Philadelphia and New York area artists including the Machine, Matt Davis's Aerial Photograph, Oud Blues, Ellipsis, Chris Harford, Sinking Ship and Jason Fraticelli and the Dreams.
Jon first moved to Philadelphia in the mid-1990s to attend the University of the Arts, and he graduated with a B.A. in music from Temple University.  After moving to New York in 2000 and finding work as a sideman in jazz and klezmer bands, he moved to Lambertville, New Jersey, where he began writing songs that drew on country and folk influences.  He formed the alt-country band Lazlo, which released two full-length albums ("Lazlo" and "Old Steel Company") and opened for national acts such as Lyle Lovett.   With other artists, Jon has opened for the Wailers, Bernie Worrell and the Woo Warriors, Meshell Ndegeocello, Joan As Police Woman, Cassandra Wilson, the Jacob Fred Jazz Odyssey, and the Jazz Mandolin Project to name a few. In the jazz world, Jon has had the opportunity to play with Terrell Stafford, John Swana, Phil Roy, Larry Mckenna, Grover Washington, Jim Holton, Jon Madof's Rashanim and Jonathan Blake.
He returned to Philadelphia in 2006 and began working as a multi-instrumentalist with local and national artists. Jon is a faculty member at the Lawrenceville School, the Princeton Montessori School and the Pennington School, where he teaches guitar and woodwinds.
___