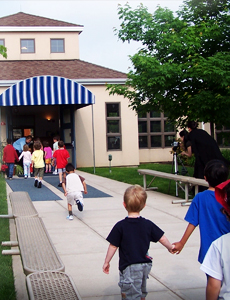 Princeton Montessori School is a spirited, independent, coeducational day school for children that seeks to ignite the innate and lifelong joy of learning. It was established in 1968, and follows principles of education developed from the research of Dr. Maria Montessori.
There are over 200 children of diverse backgrounds, from infant through eighth grade, at our centrally located complex on a single campus at Cherry Valley Road in Princeton, New Jersey. They are guided by nearly 75 dedicated and highly qualified faculty and administrators. The School is governed by a Board of Trustees composed of distinguished members of the greater Princeton community.
Princeton Montessori School is accredited by the Middle States Association of Colleges and Schools (MSA) and the American Montessori Society (AMS) and  is a member of the National Association of Independent Schools (NAIS).  An AMS accredited school is a designation that the school meets well-defined standards of excellence as defined in the AMS School Accreditation Standards and Criteria. Currently, about 10% of AMS international and members schools (national and international) are AMS accredited.
Five cornerstone multiage programs are offered: Infant (through 18 months), Toddler (through three years), Primary (through kindergarten), Elementary (through fifth grade), and Middle School (through eighth grade). Also, there are enriching before- and after-school programs and exuberant summer programs.
Our curriculum is enhanced on an age-appropriate basis by courses of study in music (including singing, listening, optional Suzuki violin, woodwinds, guitar and piano lessons, music history, performance, and opera); plus creative movement and fitness, art, technology, and world languages and cultures. There are a variety of clubs for upper elementary to join; among those that have been offered are cooking, chorus, ceramics, book illustration, playwright's theater, sewing, yearbook, and technology.
Our graduates are successful at the most demanding area high schools. View our Alumni site.