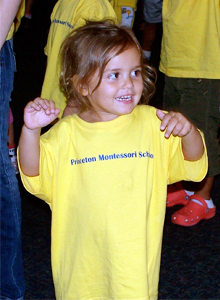 Teaching children effectively requires a close collaboration between parents and teachers. Research confirms a direct link between student success and parental involvement with the school. We need to understand one another, share knowledge and insights, and agree on goals.
That's why we consider the concept of community – the community that surrounds and supports and secures your child – paramount. And, it's why we consider that your involvement in Princeton Montessori School is as much of a commitment as the one your child will make.
Princeton Montessori School offers several vital opportunities for parents to effectively partner with the school in the education of the children. For instance, we offer an extensive series of Parent Education programs to help parents understand what their children are experiencing in the classroom and on how Montessori principles can be useful in various parenting situations.
Parent Education subjects include making the home environment accessible and responsive to children; understanding the school curriculum; discipline; sibling rivalry; social, emotional, and moral development issues; and much more. These events also provide parents with the opportunities to share experiences with other parents who have similar goals and issues concerning their children.
Parents also participate in parent-teacher conferences, as well as introductory or transitional program meetings. Classroom observations and discussions with teachers further inform parents about the child's experience at school. And, there are innumerable opportunities to assist in student activities like outings, events, and performances. There are also enjoyable social functions scheduled throughout the year.
Parent Ambassadors: The Parent Ambassador Program encourages Parent to Parent connections and involves parents in a variety of the school's activities and events.  Each Program has a designated Ambassador who communicates program specific information to parents in that program throughout the school year.  In addition, Ambassadors coordinate community service activities, reach out to new and prospective parents and coordinate cultural outreach activities.
Parent, grandparent, graduate, and friend support of our development campaign is also vital to our ability to sustain and improve the quality of education we provide.
Thank you for considering Princeton Montessori School: intelligent, contemporary, in time with a demanding world… thoughtfully structured, made for children… animated by the fundamental themes of respect for each child, purposeful activity, community involvement, and the empowerment of accomplishment… accommodating varied tempo and style, but insistent on understanding… nurturing in tonality and confident in outlook… a composition of diverse elements harnessed to a single purpose: a symphony of learning.